Repairs & Restoration
China Repair Advice
Although we are unable to give recommendations with the assurance for the quality of work, a professional restorer should always advise you of the best and most appropriate type of repair for your piece, and this often centres around the restoration vs conservation debate. They will usually need to see the piece or at least a really good photograph, to first assess whether a repair is possible and worthwhile and then to give an estimate of the cost. A great place to start is the Institute for Conservation or The Royal Porcelain Works.

The Royal Porcelain Works
Just an hour's drive from us in Kenilworth is the great city of Worcester which has been inextricably linked with fine ceramics for more than 250 years.
Sitting alongside the fabulous Museum of Royal Worcester is redeveloped Royal Porcelain Works, originally founded by Robert Chamberlain in Severn Street, and now transformed by the Bransford Trust to create a centre for the arts in Worcester. With many events throughout the year, the GoodRoots café and the Piston Distillery, the Royal Porcelain Works is well worth a visit. Though even more importantly they have developed a reputation amongst auctioneers and museums as one of the first points of contact when a cherished piece of china needs repair or restoration
Ceramic Painting, Repairs and Restoration
Tony Young is the Resident Artist at Royal Porcelain Works, with over 40 years of experience in ceramics,
Tony began his career at Royal Worcester in 1970, shortly after his fifteenth birthday. In 1971 he was named 'Best Animal and Bird Artist' by the renowned ceramics expert Henry Sandon.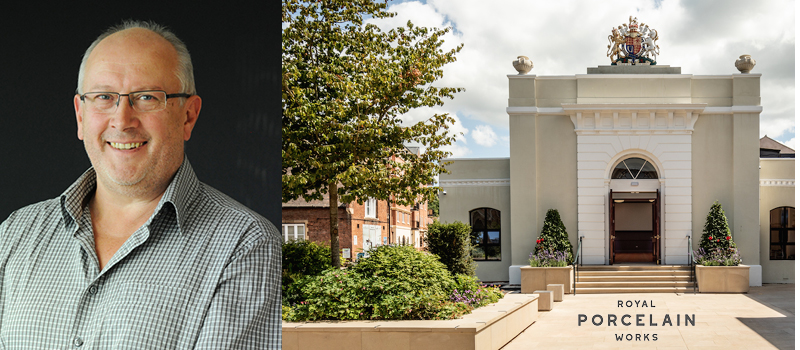 His many special commissions have included painting the Queen's corgis, as well as paintings for the Sultan of Oman. Tony has also built up a reputation for his repairs and restoration work which he also undertakes on-site; these have included around 600 red poppies from the public art installation at the Tower of London which commemorated the outbreak of the First World War.
Repairs and Restoration visits are by appointment, full details can be found on their website, www.royalporcelainworks.co.uk.
Good luck and we would love to hear how you get on.