The Essential Guide
We sell both new tableware and replacement china. New tableware is brand new from the manufacturer, whereas buying replacement china is not always as straightforward. So we have put together this quick guide to help you when choosing your replacement china. If you're in any doubt, please get in touch before you place your order.
Replacement China
Our replacement china is almost always pre-loved and so every piece is unique. Some pieces will have had an easy time sitting in a Welsh dresser, others worked hard feeding the family every day and then there are the party animals who just came out at Christmas. With such a range of lifestyles the condition of every piece will be unique.
With patterns that have been produced over many years, there can sometimes be variations in item size, pattern and colour due to changing manufacturing techniques and technologies. The items in a range can also change over the years, with items and shapes going in and out of fashion.
For more information on the services we offer see our About Us and Search For Me pages.
Quality Checked
To help you buy our pre-loved replacement china with confidence, we take great care in cleaning, checking and grading every piece.
We do not sell any chipped or cracked pieces, and have two main grades:
Very Good – Rarely used and in excellent condition.
Good – Light wear from occasional use, probably in better condition than the china on most people's table. Production 'seconds' and items with minor manufacturing flaws will also be included in our Good grade.
Sometimes we receive items that do not meet our main grading criteria. These pieces are graded as Fair and will have wear commensurate with their age and typical of regular daily use.
If the condition of an item does not meet your expectations please do get in touch on 01926 512402.
Older and Collectable Items
The condition of some older items is not only affected by how often they have been used but is also noticeably affected by their age and the less advanced techniques used during their production. The vast majority of these pieces will be crazed, a series of lines within the glaze. Small manufacturing faults such as firing marks, grit under the glaze and pitting are common as are trivet marks. Size and pattern variations are also more common as many items were hand-painted and manufacturing techniques less advanced. Some examples are highlighted below;
Crazing
As you can see from this image, crazing is a series of lines within the glaze. It can occur as soon as an item is removed from the kiln, or it can develop over time.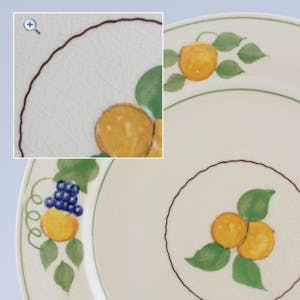 Manufacturing Faults
These are due again to production techniques. Modern ceramic production has come up with ways to eliminate problems like pitting, grit underglaze and firing marks, but they are present more often in period items.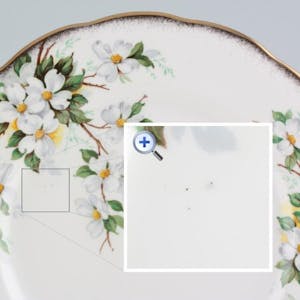 Trivet Marks
On older patterns, there are sometimes trivet marks visible on the base of the item. These marks occur during the firing of an item, will usually be glazed over and have no impact on the quality of the item.
If an item is likely to have any of these it will be clearly identified in the product details.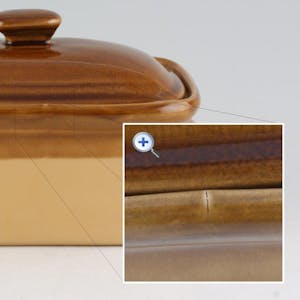 Cup Sizes and Shapes
There can be confusion about cup types. Though it may seem self-explanatory, we hope these item definitions are helpful. We use capacities to illustrate size, but we typically give the height and width of items.
Coffee Cup or Can – A traditional after-dinner coffee cup is very small and is meant for espresso or filter coffee rather than large cups of milky coffee. It will typically hold 100 to 200ml, or 3.5 to 7 fl oz.
Breakfast Cup – This is usually a similar shape to a tea cup and larger than its afternoon counterparts. It will typically have a capacity ranging from 300 to 450ml, or 10.5 to 14 fl oz.
Tea Cup – This is a broad description that applies to all other cups not mentioned above. Tea cups come in all shapes and sizes, so please check carefully when ordering to choose the size you want.
Colour Variations
There will often be colour variations between different items within a pattern. This is usually caused by production taking place at different times, with different colours and techniques being used. This can be noticeable with hand-painted patterns like Denby, but lots of older patterns are particularly susceptible to these issues.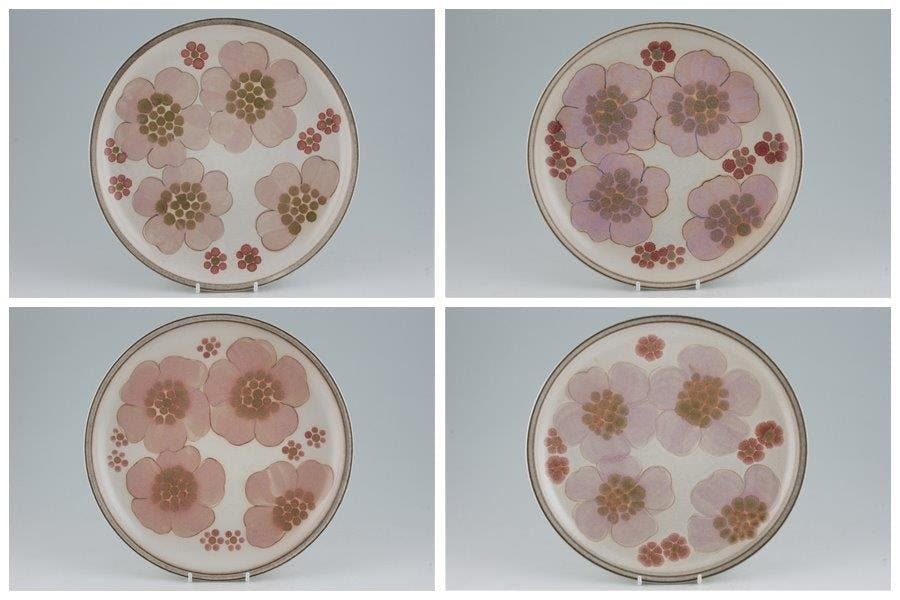 The images on our website are intended as a guide, to let you know you've chosen the correct pattern or item. While we aim to always use high-quality images, due to the huge variation in colour settings on computers, no image will provide a perfect representation of an item's colour. If you have a shade you are particularly interested in matching, please contact us before ordering. We will always do our best to help.
Pattern Variations
A key feature of older items is variation in the pattern. A number of items were hand-painted, which will of course result in pattern variations and is part of the enjoyment in owning these patterns.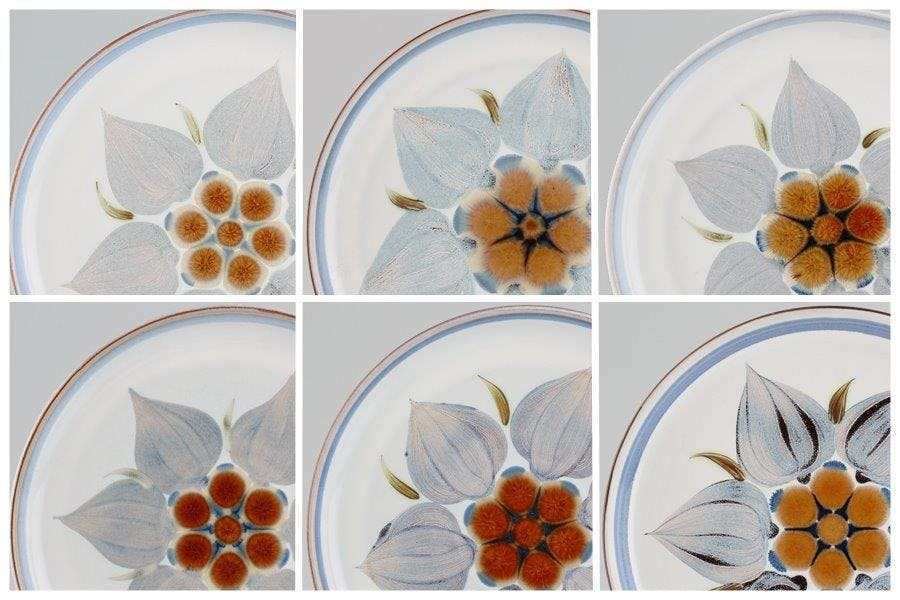 The images on our website are intended as a guide, if you are looking to replace items in older hand-painted ranges and are looking for a close match please give our customer service team a call.
Item Variations
Some manufacturers produced items in a range of different shapes. This is most commonly seen in cups and saucers, but there are occasionally variations with plates and bowls. We will always include shape variations that we are aware of in the item description – but if you think your item doesn't quite match the one we've described, let us know. This will help us find you the closest possible match.
Size Variations
Due to the production techniques used in the earlier parts of the 20th century, there are sometimes fluctuations in the size of items. These fluctuations are often very small but are an unavoidable part of owning vintage china.
Dimensions and Capacities
Plates, bowls, platters and saucers – We measure from rim to rim at their widest point.
Cups, jars and tall items – The first dimension refers to the diameter, and the second dimension refers to the measurement from the top to the base of the item. Jars are measured without their lids.
The capacity of jugs, teapots, coffee pots and hollow-ware items – We measure this by filling the item to the brim, then measuring the volume of water held.
Back Stamps
In some patterns, a different back stamp simply indicates the period during which it was made – the patterns, shapes and colours remain the same. On some occasions, a new back stamp indicates that the production method has changed; for example, a new shape, colour or factory.
When there are significant and noticeable differences between items bearing different back stamps, we will list them separately. Therefore, it is very important to double-check your back stamp before ordering.
Missing Back Stamps
In certain cases, back stamps are not applied to items. When we are certain that an item is a near-perfect match for a particular pattern, we will list the item under that pattern but will clearly indicate that there is no back stamp.
Due to Denby's glazing process, back stamps are added post-production – which means they can rub off over time. We do sell Denby items without back stamps, but only if we are certain that they are genuine.
Seconds and Other Back Stamp Marks
There are a number of different varieties of back stamp marks, not all of which identify the item as a second. Many marks were added during production before the quality of the piece was checked. We have no way of knowing why these "special run" marks were added. The simplest and most common seconds mark is a scratch through the back stamp.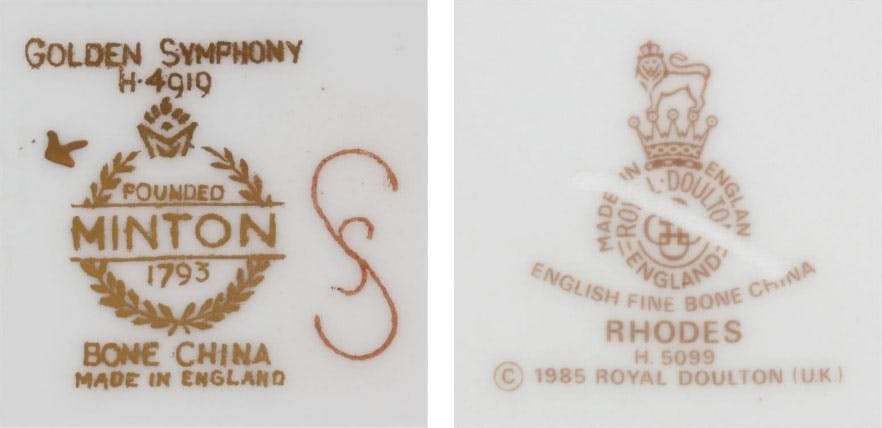 Glaze Wear
This is when the glaze of an item is rubbed away and is distinct from scratches. It often occurs in the centre of plates and is characterised by a dull patch where the glaze has been worn down. It is often only visible on close inspection and will usually be covered when the item is in use.
Crazing
Crazing is a fine network of cracks in the glaze layer of a piece of china or pottery, which is caused by a difference in the thermal expansion of the ceramic body and the glaze.
This can occur straight from the kiln, but also can develop over time. Tiny differences in the expansion of the glaze and the ceramic body can put the glaze layer into tension causing it to crack. Variations in ambient temperature can be enough to make this happen. For some earthenware and pottery the ceramic body will absorb and release moisture from the air, which makes the difference in expansion worse and so crazing more likely.
Advances in ceramic and glaze technology means crazing is not common on modern tableware, but for earlier china and pottery particularly in what we now consider as the vintage and retro style crazing is to be expected.