Fiona's Famous Carrot Cake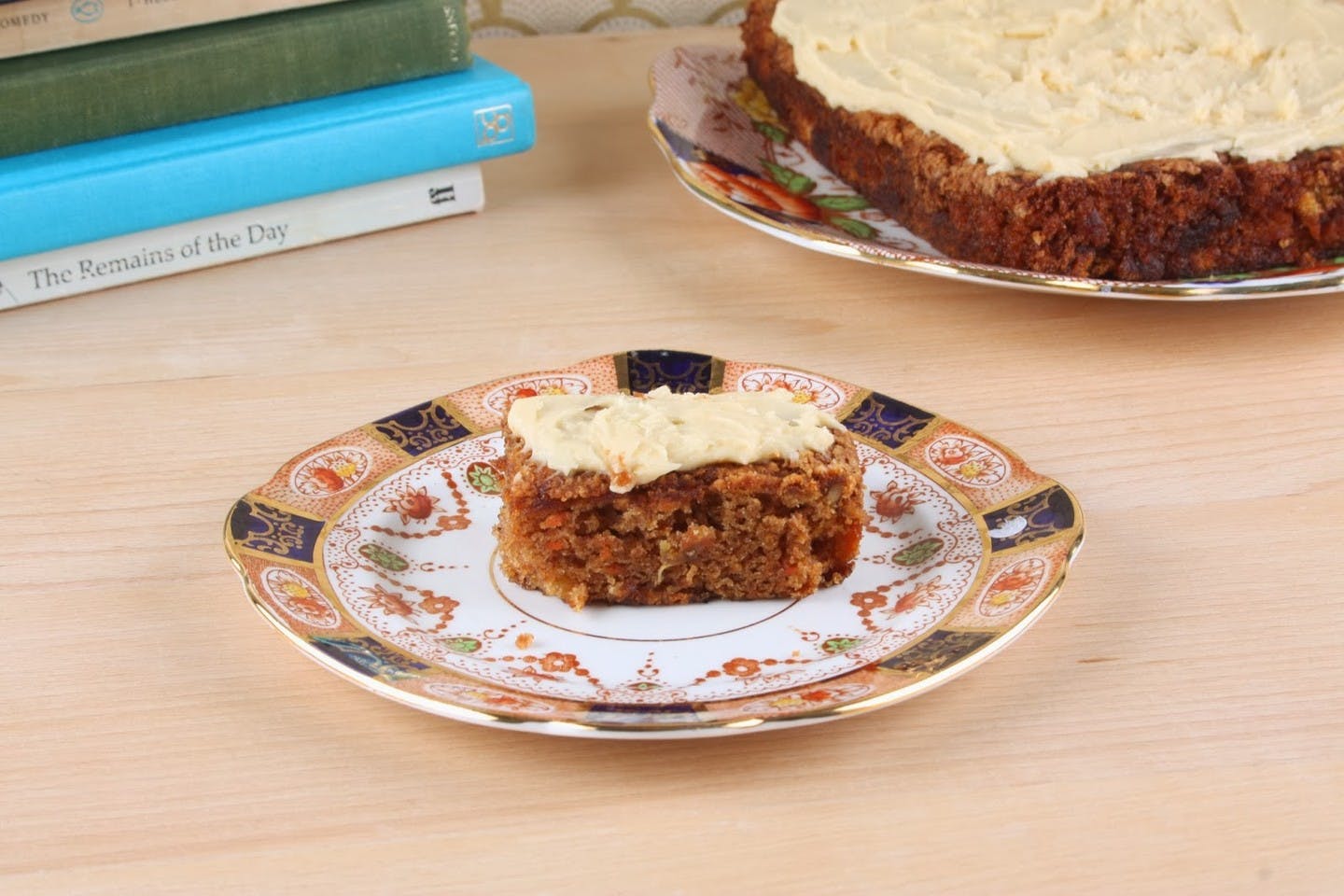 We were very lucky to have the wonderful Fiona Hope work with us at Chinasearch for 14 years. And when she moved to France, we knew we'd miss her tireless work ethic, great sense of humour and understanding ear. But, most of all, we knew we'd terribly miss her incomparably yummy carrot cake!
Fiona was given the recipe by her American friend, Sue, and she shared it with us as she said: "au revoir"!
Ingredients (conversion: 1 cup = ½ pint)
Cake
2 cups sugar
1 cup oil
4 eggs
1 tsp vanilla
2 cups plain flour
2 tsp baking powder
2 tsp ground cinnamon
1½ tsp baking soda
2 cups lightly packed shredded carrots
8oz crushed pineapple, well drained
½ cup chopped walnuts
Traditional cream cheese frosting
6oz cream cheese, softened
6 tbsp butter/margarine, softened
1 tsp grated orange peel (optional)
1 tsp vanilla
2 cups sieved icing sugar
Method – Cake
1. Preheat oven to 175°C/gas 4. Grease and flour-dust one 22cm x 33cm/9"x 13" baking tin or two smaller tins. Set aside. (Fiona recommends using two tins – one of 20cm x 20cm/8" x 8" and the other 20cm x 30cm/8" x 12".)
2. In a large bowl, stir together sugar and oil. Beat in eggs, one at a time, then stir in vanilla. Stir in flour, baking powder, cinnamon and baking soda. Add carrots, pineapple and nuts, stir just to blend. Pour batter into prepared tin/s.
3. Bake for 45 minutes or until a wooden pick inserted in the centre comes out clean, and cake starts to pull away from sides of tin. Place tin/s on a wire rack to cool – let cake cool completely before frosting or icing.
Method – Frosting
Blend all ingredients together in a small bowl until smooth and spread on top of completely cooled cake.
Sue says: "Fiona used to always say that if you're not a fan of cream cheese icing, try a simple butter icing flavoured with a dash of orange juice. Another of Fiona's top tips is to chill the iced cake in the fridge before cutting it, which makes it so much easier to slice cleanly."
Recipe by Fiona Hope (written by Sue Ward)
< Return to blog